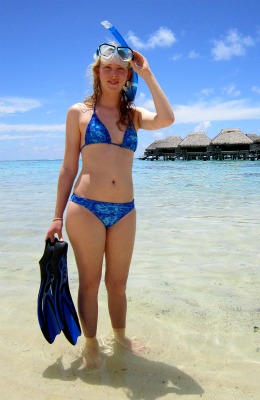 Begin your snorkeling experience in the shallows of your resort beach
Don't know how to snorkel? Tranquil Bora Bora Lagoon is the ideal place to start. Before you head to Bora Bora go to a sports store and buy quality goggles, snorkel and flippers. Ask to try on several pairs to get the best, snug fit. And when you arrive in Bora Bora, you can build up confidence snorkeling in the shallows of the Bora Bora lagoon at your resort.
Here's my mum's experience on her first Tahiti vacation: "We were staying at the Hilton and it was a few steps from our bungalow to the water's edge. I needed help to position the snorkel on the band of my goggles. After I pulled them on I felt uncomfortable as I took my first breaths through a tube in my mouth. My preference would have been to relax on a sun-lounge under a palm, with my toes in the white sand, but I picked up my flippers and began wading through the warm shallow water. As it became deeper I slipped a flipper onto each foot and pushed forward into the liquid turquoise. Instantly I forgot everything else. I was swimming in an aquarium with dazzling, brightly colored fish of various sizes. I was on a mission to discover new intriguing color combinations. From that moment there was not enough snorkeling time in every day of my Bora Bora vacation."
There is a snorkeling experience waiting for everybody here. Whatever your level of fitness, snorkeling in Bora Bora is easy because of the buoyancy of the calm water. I have been on a Bora Bora vacation with people of every level of water experience. Each one has taken the plunge with me. They all describe their delightful Bora Bora snorkeling moments as ones that they pull out and revisit over and over.